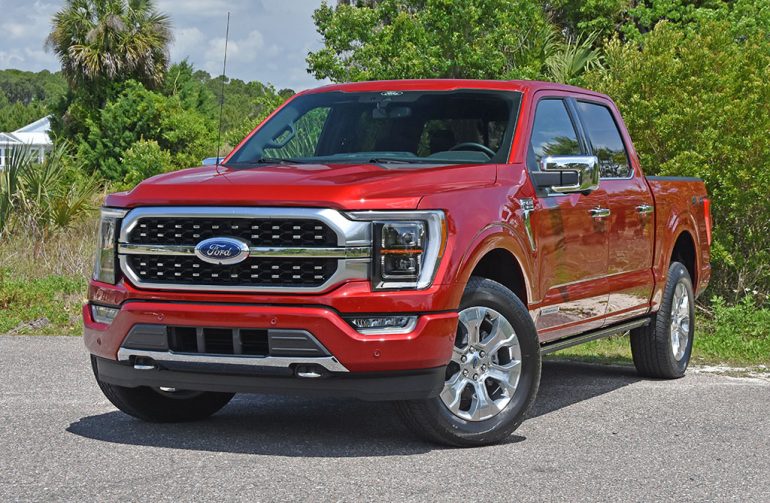 Whether we like it or not, electrification of automobiles is coming, and to help get us prepared Ford gives us the first mainstream hybrid pickup truck in their new redesigned 2021 F-150 PowerBoost. Now in its 14th generation – 43 years and counting, the Ford F-150 keeps things interesting as the pickup retains its king of the hill sales status and now makes a new move into the hybrid landscape with the new PowerBoost F-150 that I had a chance to check out for a week.
The new Ford F-150, despite being a complete redesign for the 2021 model year, looks more like a refresh, and that's for good reason. You must understand that the F-150 is a record seller and if Ford messed with the formula that works to retain those sales, well, two other automotive giants that have been clamoring for that top sales spot for as long as I can remember, and they would easily clip the F-150 if Ford's recipe went stale.
Making a smart play in the kitchen, Ford cooked up something fresh with a literal "powerboost," hence the name of the F-150 hybrid. The new setup features the brand's turbocharged 3.5-liter V6 powerhouse that is paired to a hybrid system that produces a total of 430 horsepower and 570 lb-ft of torque sent through a 10-speed automatic transmission. That's about 20 ponies less than the current/outgoing Ford Raptor but touts 60 additional lb-ft of torque thanks to a 44-hp and 221 lb-ft electric motor that fills power for the otherwise 394-horsepower and 492-lb-ft of torque turbo V6 found under the re-sculpted aluminum hood.
The powertrain is interesting as it is mostly seamless for its output of power with a few rough-around-the-edges transitions from a full-electric mode to use of the gas engine. Those "rough" transitions take place mostly in gear shifts of the 10-speed automatic transmission that you feel thumping upon full-electric power during downshifts. The F-150 PowerBoost often shuts off the gas engine during braking for regenerative braking, and then the downshifts of the 10-speed take place on electric power that feels slightly rough. It's not terribly bad, but it does get your attention with a raised eyebrow or two. In all, from what I have experienced in the new F-150 PowerBoost, is a quick-to-respond hybrid system that acts almost like, dare I say, a Toyota Prius. Surprisingly, for Ford's first attempt at a hybrid truck, the system provides a uniformed output of power in most situations, in addition to keeping the cabin surprisingly quiet.
The electric motor takes up the light-duty of slow accelerations and tends to start up the gas engine quickly without stumbling when power is needed. The acceleration with the engine and electric motor working together feels almost like its Super Duty Power Stroke diesel brethren in the way it pins you back in the seat with gobs of torque.
As far as drivability, the F-150 PowerBoost feels right at home for what you expect out of a loaded-up F-150 in my test vehicle's top-level PowerBoost Platinum trim. Still, the ride quality isn't as good as what you get in a comparable RAM 1500 as the rear of the Ford still has leaf springs. Still, there's a lot to like and take literal comfort in with massaging, heated, and ventilated front seats that proved to be exceptionally comfortable. Where the hybrid part of the F-150 PowerBoost matters most for some, the fuel consumption is surprisingly consistent. The EPA-estimated 24 mpg city and 24 mpg highway, "24 mpg combined" (that's not a typo) are attainable numbers in the real world. I saw many times when keeping pace with speeding highway traffic a nice 23.4 mpg at the end of my trip and other times as low as 22.1 mpg. I was able to hit around 24.2 mpg a couple of times, which required a little finesse with the gas pedal to keep the truck in electric-only mode, which is something that leaves you guessing as there is no gauge to indicate where your throttle application will kick over the gas engine. Over a total of 354 miles, I averaged 21.1 mpg – and that included some fun time pushing the truck hard and accelerating to 60 mph in 5.3 seconds a few times. Another benefit is the new 2021 Ford F-150 PowerBoost 4×4 has an astonishing range of about 700 miles out of a single 30.6-gallon tank of fuel. Also, to really push things into a new world, the F-150 PowerBoost 4×2 gets up to 26 mpg, and that yields a range of around 750 miles!
There's only a limited amount of information to tell you what the hybrid system is doing fed out of the 12.3-inch color gauge cluster or through the new updated Sync-4 12-inch touchscreen. There's a reasonable amount of vehicle feature set menus and settings but limited for actually controlling the hybrid system other than the several drive modes. What is welcomed in the drive modes is that each of them doesn't leave you to guess how to optimize the mode where in modes like Eco it will switch the vehicle into 2-wheel-drive-high or in off-roading modes it switches to four-wheel-drive and displays pertinent off-roading data on the screens automatically.
Ford went the distance to shock and awe, and the "shocking" part is multilayered by not only giving you ample acceleration power but the power to tow as much as 12,700 pounds. Not to mention, the GVWR (Gross Vehicle Weight Rating) is at 7,000 pounds thanks to the F-150 retaining its aluminum structure. Moreover, there's another surprise, in the form of a self-contained generator that can literally power a house if you opt for the larger 7.2-kilowatt setup. Because the F-150 PowerBoost touts a 1.5-kWh lithium-ion battery that works off what the turbo 3.5-liter V6 can produce when it kicks over, Ford figured that the spinning energy can be put to another use with an optional generator that delivers up to 7,200 watts. Standard on my test vehicle is the smaller 2.4-kilowatt generator, still a handy item that can power a multitude of equipment. The standard F-150 PowerBoost 2.4-kilowatt generator, which serves as a networked power setup for interior cabin outlets and the pair of outlets in the back of the truck bed, can be set through the infotainment unit to generate at capacity or just the basics for low-wattage equipment that you would power inside the truck. For power-hungry items, the F-150 PowerBoost's generator has no issue to kick on the gas engine and provide a steady flow of power out back – something no other truck on the current market can do. Just think of the possibilities of charging up tools on the go, using the reserved battery power to charge up everyone's phone, or provide power to something big using the 240-volt 30 amp outlet on the optional 7.2-kilowatt generator version.
Inside is a slightly reworked cabin that brings highlight to the new trick shifter that can be power-folded flat to make way for the fold-out worktable transformed from the center console revealing a rubberized flat surface. Using wireless Apple CarPlay and Android Auto or enabling them through the USB port brings a welcomed level of connectivity to the new Sync 4 system, as does the wireless over-the-air system updates. Overall, the Sync 4 system nicely polishes the outgoing setup but still has a few system glitches and hiccups, even in the digital gauge cluster where items failed to display certain functions or would load a ghost alert. It's possible that the small glitches are something Ford will work out soon with additional production units or a simple over-the-air system update.
There's a plethora of vehicle safety equipment as you would expect, including blind spot monitor, lane keep assist, automatic rear braking, forward collision mitigation, adaptive cruise control, and a trick 360-degree camera system with the proper truck bed view. You can even use the bed view to see the power tailgate lower and close at the press of a button on the dashboard, on your keyfob, or by inching the tailgate up by hand (it will automatically power-close).
I have no doubt that Ford's F-150 will continue to be king of the hill, and with the new PowerBoost option and all that it has to offer, it will further push the envelope of what Americans look for in a new truck – that is, if you choose to pay the price of admission, which is about $72,285 when all is said and done for my nearly-loaded F-150 PowerBoost Platinum test vehicle.