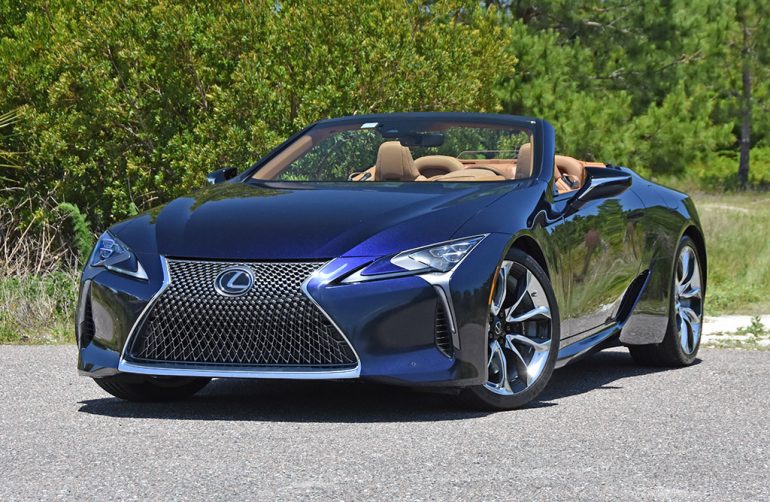 The automotive landscape is full of mundane vehicles that fail to captivate or inspire a feeling that we hope for in spending our hard-earned money. There are very few vehicles that command a double-take or googling eyes unless you're talking about sports cars or supercars that cost north of $150,000. Lexus has been a brand that has fortunately ended up on both spectrums of being mundane with some of the common vehicles found in middle to upper-class suburbia. Slightly outside of such, Lexus has a couple of gems, such as in the form of the new LC 500, a vehicle that I praised in previous reviews for looking like it's fast but is unapologetically unique even though it doesn't exactly perform like a Supercar, which is perfectly fine. Now, Lexus has elevated the elegance of the LC 500 in its grand touring character offering a convertible.
See Also: 2018 Lexus LC 500 Coupe Review & Test Drive
The new 2021 Lexus LC 500 Convertible is a vehicle that gets countless double-takes, some because the onlooker doesn't know exactly what it is, others – because they're intrigued by the uniqueness of the LC convertible in that it's not only classy, but it proudly sports a familiar badge that is shared with vehicles known for quality, reliability, and impeccable fit and finish all for relatively affordable prices. The LC 500 Convertible brings some of that to a new segment, one that never departed far from its concept car roots bringing distinctive design to an attainable reality.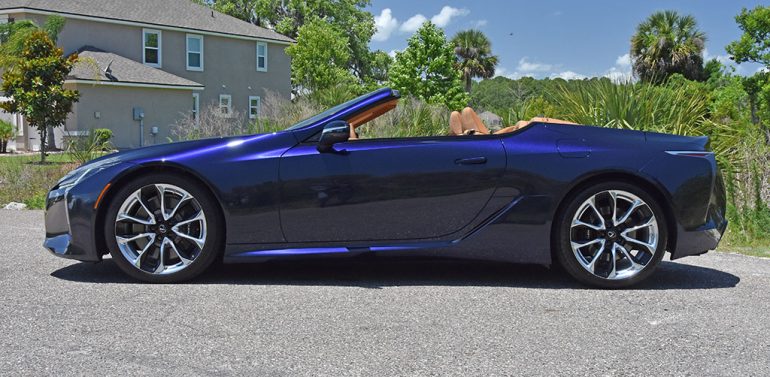 For all of what the new Lexus LC 500 Convertible is, it is one vehicle that after spending a week with I can honestly say that I respect its boldness and collective of quality parts that set it apart from most other vehicles. In that, the LC 500 Convertible continues a path from its Coupe counterpart that was first introduced a few years ago touting a naturally aspirated V8 engine or a choice of a V6-powered hybrid setup. In the LC 500 Convertible, the 5.0-liter V8 engine is retained as the powerplant producing 471 horsepower and 398 lb-ft of torque. That naturally aspirated power is sent through a 10-speed automatic transmission and a Torsen limited-slip differential out back to power the 20-inch rear wheels wrapped with performance run-flat tires.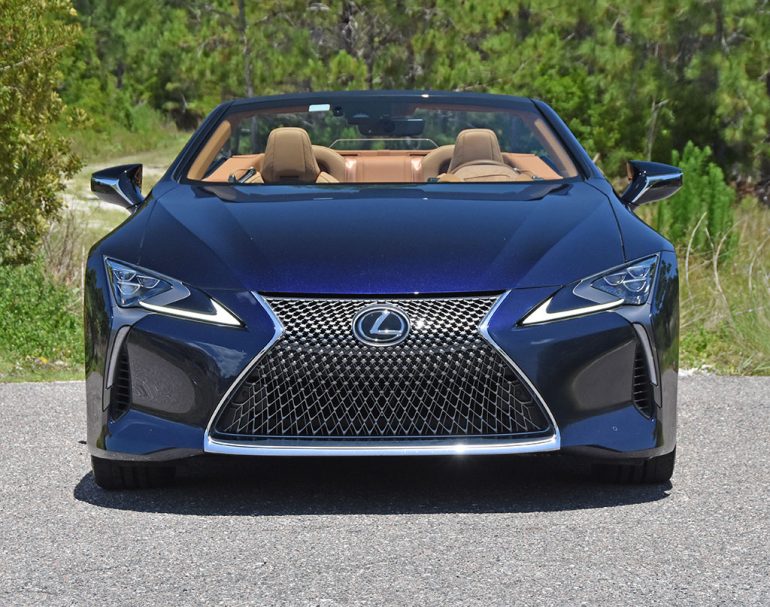 The power delivery is an interesting thing in the LC 500 Convertible as the 10-speed automatic transmission is quick on its up-shifts with the first 6 gears seem like the only ones that you really need while the rest are just overdrive cogs to get the EPA-estimated 15 mpg city and 25 mpg highway figures. However, many of the lower gears prove to be a bit too long and tend to use the full band of the V8 engine's rev range. It's a strange thing that Lexus could have simplified with just an 8-speed auto that has shorter ratios. The engine is glorious, even though it doesn't produce all that much power when compared to other top-tier sports cars in the realm of the LC 500's slim competition. Still, the LC 500 Convertible holds its own for a decent grand touring vehicle that can hit 60 mph in just under 5 seconds and cover ground smoothly for an enjoyable top-down experience.
The collective of parts in the LC 500 Convertible feels more of a statement of Lexus being an accomplished brand that shows off just a little. That little being the idea of keeping things civilized with its powertrain that emits a rather exotic sound from its exhaust and delightfully air-pulsating intake manifold above 4,000 rpm. In fact, the Lexus LC sounds almost Ferrari-ish at times with a subtle V8 rumble that is amplified with the soft power-folding top down. Everything about the LC 500 Convertible feels of quality, even during the buttery-smooth operation to lower or raise the top taking just 16 seconds and can be done while driving up to 31 mph. With the top up, the LC 500 Convertible is surprisingly quiet but with the top down I think it looks its best showing off the lavish Toasted Caramel leather-wrapped interior.
The LC 500 Convertible feels a little heavy at times but does well to hide its 4,500 pounds through a well-tuned adaptive dampening suspension system that is automatically manipulated by the drive mode or customized drive mode setting.
There's plenty of exterior design and interior element inspiration from previous Lexus products, such as the LFA supercar. Apart from that, the LC 500 Convertible is an elegant vehicle that looks the fitting part of being a supporting movie start in a blockbuster, but not any blockbuster, it has to be something with some serious drama and eloquent actors/actresses to fit the proper theme. Fundamentally, the LC 500 doesn't try to be anything but itself. It's not trying to be a Porsche 911 Cabriolet or a Mercedes S-Class Cabriolet, it is its own thing, which is completely fine.
With most of the elements of the LC 500 Convertible left as they were from the Coupes intro in 2018, the big differences being the power soft top and the addition of Apple CarPlay and Android auto, the LC Convertible is quite the specialized eloquent luxury drop-top grand tourer. You and one other person (the back seats are nearly useless due to their small size and racked back) will have no qualms about taking a long trip with a couple of bags in tow in the fixed-position trunk that's not intruded by folding the top down.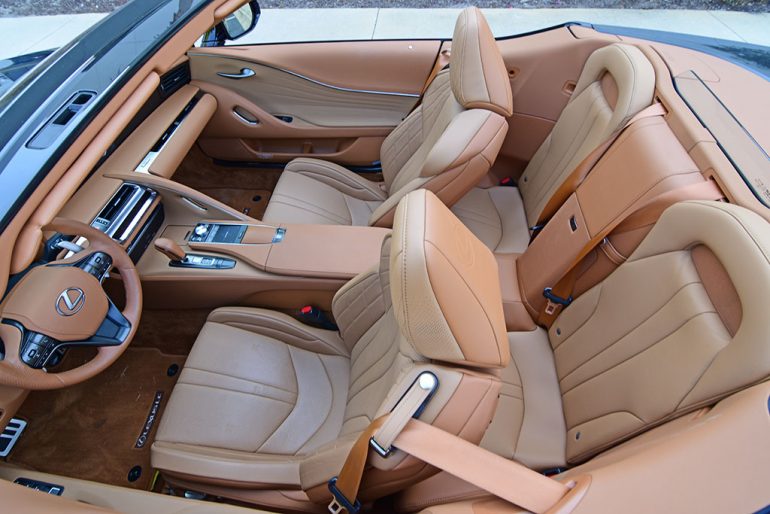 The drawbacks of the LC 500 Convertible remain to be what I saw in the coupe, the use of the clumsy touchpad controls for the infotainment unit. Here, Lexus would benefit from utilizing a touchscreen, which is now slowly rolling out in a few new models. Still, the interface of the infotainment system isn't terrible, it's just how you control it through a fussy touchpad and a limited number of physical buttons, especially having to go through the system with the touchpad just to turn on the front seat ventilation, heating, and new headrest heating for those cooler drop-top cruises. However, the large metal volume knob and physical climate controls are welcomed controls, and there's an "automatic" concierge system that automatically manages the seat climate controls.
Lexus has done well in offering a new level of eloquence in having a Convertible LC 500, a vehicle that doesn't feel as if they compromised just by chopping off the top of the LC coupe. The LC 500 Convertible feels complete and purpose-built with a solid structure. That, in itself, is deserving of praising the LC 500 Convertible and somewhat ignoring the lack of roller-coaster thrilling performance. There's still plenty of enticing elements on the side of performance, such as dwelling on the fact that Lexus is one of only a handful of brands that still offer a V8 engine that's not turbocharged or supercharged. Lastly, the LC 500 Convertible, in my opinion, is a decent value at an as-tested price for my test vehicle of $112,380. I may not want to put one in my garage, but by the comments and looks I get driving it around town, it's sure to make someone happy and keep them smiling for many years without running into reliability issues. Moreover, I'm willing to bet that the LC 500 in both its coupe and convertible forms will be an instant classic that stands the test of time in the automotive industry.