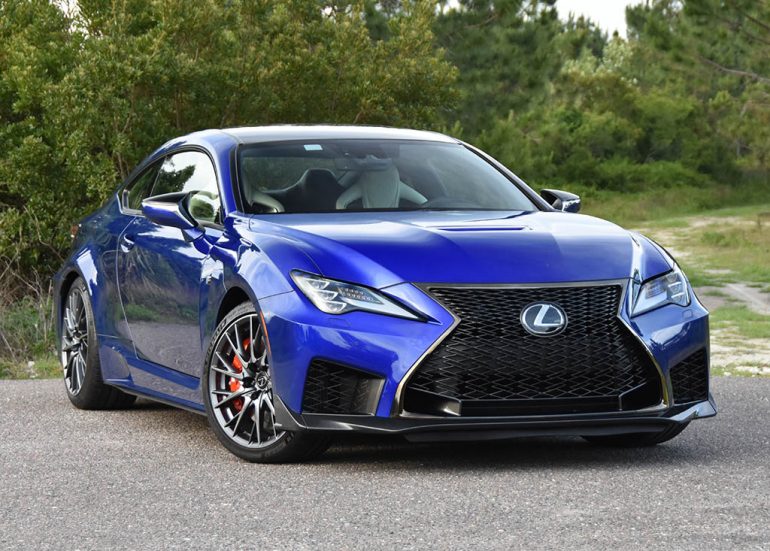 With forthcoming changes slated for the automotive industry, moving towards electrification, we may very well be witnessing the last generations of V8 gas-burning engines. As it turns out, Lexus remains to be a surprising luxury brand that has kept V8 engines well alive in vehicles like the latest RC F, a performance variety that has aged well in its seven strong years of existence.
I can almost remember it like it was yesterday, over seven years ago, my first encounter with the Lexus RC F in upstate New York as Lexus sent me on a journey to explore their new luxury performance coupe. Sure, at the time it didn't live up to what the BMW M4 was at the time, but it showed what a luxury sports coupe could offer up from a brand known to build some of the most reliable vehicles on the road today. Still, I believe after spending another week with the latest RC F that Lexus deserves praise for building and keeping such a vehicle in the lineup that touts a remarkable naturally aspirated V8 engine.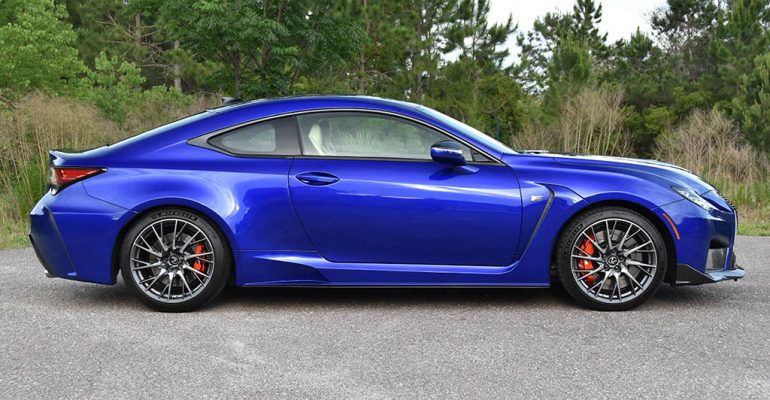 The Lexus RC F isn't the best performer for its unique segment, but it holds its own for being a fun vehicle that is assured to last nearly a lifetime without seeing many days in the service bay. It just feels solid, and the exceptional build quality is noticeable in just about every aspect of the RC F. Despite it being a rather portly vehicle for its segment with a curb weight of 3,902 pounds, the RC F can be a little engaging when you allow that V8 engine to sing, and sing it does from the growling intake manifold to a somewhat subdued exhaust note that seldom rumbles.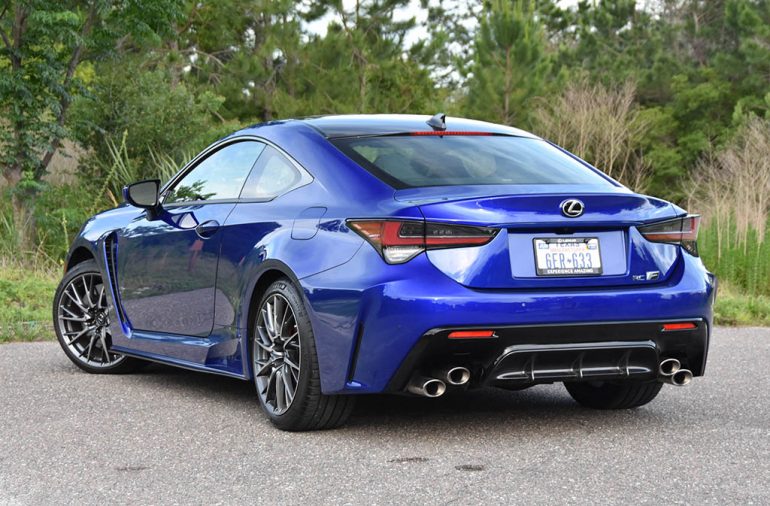 The 5.0-liter V8 engine produces 472 horsepower and 395 lb-ft of torque sending power to an 8-speed automatic transmission and TORSEN limited-slip differential out back. The combination makes for an enjoyable experience out on the road. It's when the RC F is put to the test on the track as I experience many years ago that it may fall a little short of its competition. Although, the RC F is well endowed with impeccable build quality that may be more of a quality that consumers seek versus much of the RC F's direct competition. When it comes to competition, the RC F also falls a little short on innovation as it is quite an aged vehicle now in its seventh year of a platform that seems to have run its course.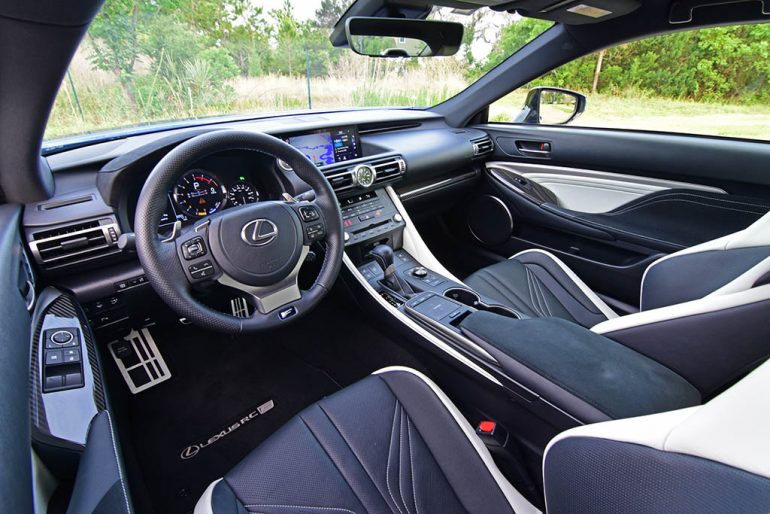 In the area of tech, the RC F hangs on by a thread with the addition of Apple CarPlay and Android integration that's still fed through a rather older infotainment unit that is cumbersome to operate. The touchpad controller is frustrating to use and the menu sets of the system could use some polishing. Thankfully, there's the proper amount of active safety equipment and a digital gauge cluster that has stood the test of time in its uniqueness that has been passed down from the old Lexus LFA supercar. There's a certain nostalgia to be witnessed in the RC F with its equipment, too, after seeing the "old" tech still be relevant after seven years.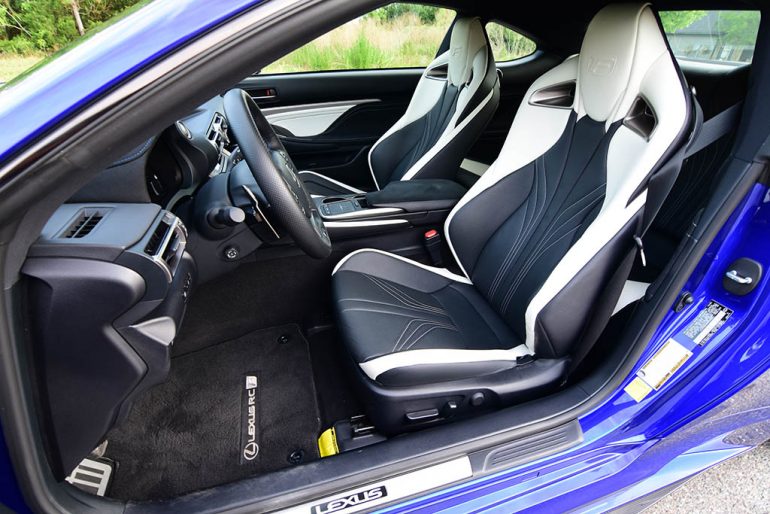 Overall performance, as I have mentioned many times before in other reviews of the RC F, is decent but outdone by modern-day competitors. Still, if you're not trying to get the very best lap times, the RC F is well enough for several enthusiasts who value quality over sheer output and performance numbers on paper. And don't worry about that Launch mode, it's more of a novelty that will only enable if you set the drive mode into Sport S+ and press the traction control/stability control button once. If you want to launch the RC F just lay into the throttle because the n/a V8 is eager to spin out of the hole, along with the rear 275/35 19-inch Michelin Pilot 4S tires.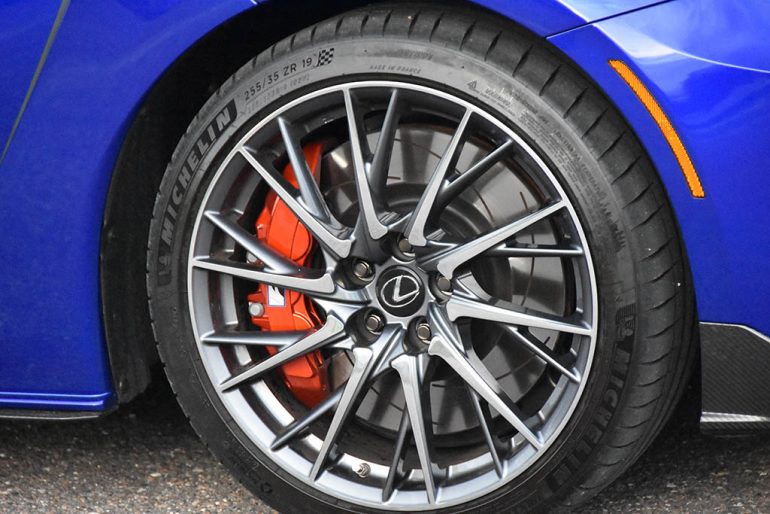 While I do enjoy the uniqueness of the RC F, from its stately looks and massive front grille to the power-raising/retracting carbon fiber rear spoiler and sewing-machine-smooth V8 engine, it may not be a car for every enthusiast seeking a luxury sports coupe considering its price. Over the years, the RC F has become a bit proud where its pricing has been elevated to new heights now reaching $90,835 for my test vehicle that includes the notable options of its 19-inch BBS forged wheels, Premium Package (heated/ventilated front seats, heated steering wheel, rear cross-traffic alert, driver seat memory, and heated power-tilt-telescoping steering wheel), torque-vectoring differential, premium triple-beam LED headlights, and a $11K Carbon Fiber Package (carbon fiber roof, interior trim, rocker panels, front splitter, diffuser, and rear speed-activated spoiler). Mind you, the RC F starts at a respectable $65,875 without all those options.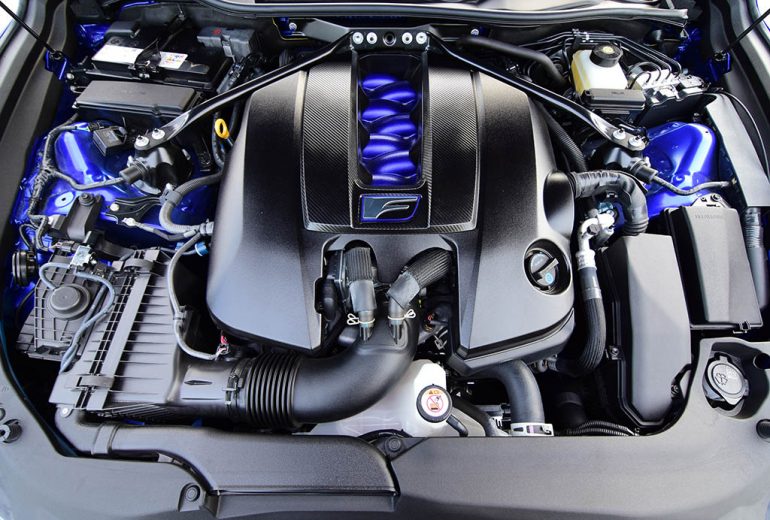 The Lexus RC F may go down as a classic as I'm certain many examples will live on into the future for many years being one of the very last naturally aspirated V8 powered machines. For myself, the RC F would be an excellent daily commuter with a dash of inspired fun to pick up on the pre-owned market versus dumping money to keep something like a turbocharged BWM M4 or Mercedes-AMG C63 Coupe running outside of its warranty, even though both vehicles outperform the RC F by all measurable aspects. Oh, there's also a special limited-to-60-units RC F Fuji Speedway Edition that has massive weight reduction for the best power-to-weight ratio for its class and hits 60 mph in 3.9 seconds all for $104,000.