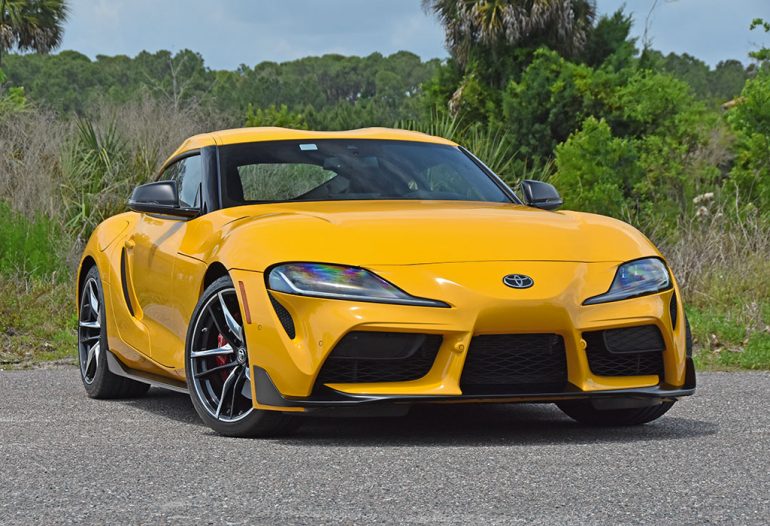 The fourth-generation Toyota Supra is one of those vehicles that will have a special place in automotive enthusiast's hearts for a long time. I know I have long loved what Toyota was able to accomplish in creating a sports car staple in the previous generation Supra, a vehicle that seems to always escape me for a few opportunities I had to purchase one and nearly deplete any cash I saved up. Thanks to BMW and the collaboration they have established with Toyota, a new Supra lives on in a fifth-generation form that's either a love or hate proposition for most enthusiasts.
For the 2021 model year, the new Supra's second year in existence, it gets a literal boost, in horsepower now said to have 382 ponies pumping through its rear-wheel-drive setup and the same 365 lb-ft of torque. When I first encountered the "new Supra" last year, I was already intrigued even though it sported primarily BMW-engineered bits under its elongated aluminum clamshell hood but wore several Toyota badges. That German BMW engineering now makes for more of an attractive package as it produces 47 more horsepower out of its 3.0-liter turbocharged inline-6-cylinder engine. Power is sent through a proven and snappy-shifting ZF 8-speed automatic transmission and a limited-slip differential that receives revised tuning. Let's be real here, the GR Supra is making much more than the stated 382 horsepower – because, my butt dyno supports such a feeling. But seriously, enthusiasts have strapped the new Supra onto dynos for real figures to prove that this is a seriously underrated vehicle. Also, you get that "almost 400 horsepower" and yield 22 mpg in the city and 30 mpg on the highway (25 mpg combined), which are easily attainable numbers in the real world as I observed.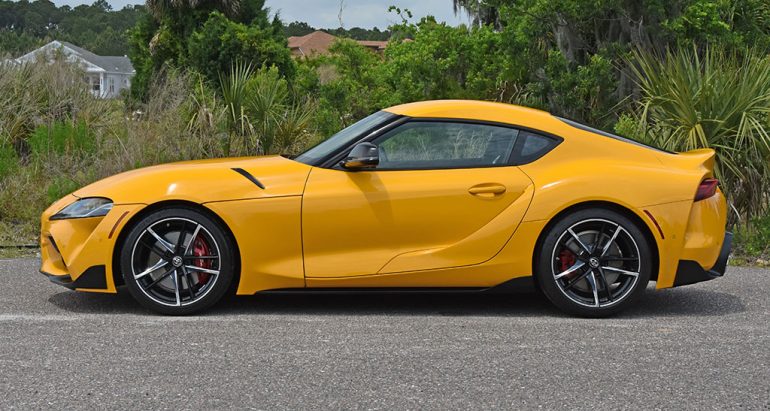 See Also: 2020 Toyota Supra 3.0 Premium Review & Test Drive
I'm able to get the new 2021 Supra 3.0 up to 60 mph in just 3.9 seconds, which matches last year's model oddly enough. While the new 2021 GR Supra "feels' a hair faster to me at least, the added power is more effective on a longer reach where it clips off the quarter-mile in less time than last year's model (12.3 seconds), according to just about every source that has tested the new Supra in-depth.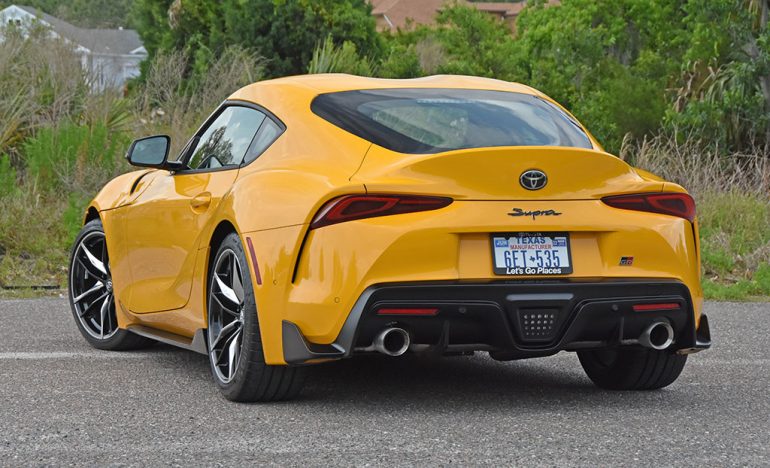 To round up the changes for the new 2021 model year, the GR Supra also gets revised steering and suspension that makes its nearly 3,400 pounds feel more connected to the road and it seems to squat in the rear a bit more under power. Lastly, there's a Supra 2.0 trim that tones things down with a smaller turbocharged 4-cylinder engine that produces 255 horsepower and 295 lb-ft of torque but with a hardly discernible look from its more-powerful Supra 3.0 stablemate.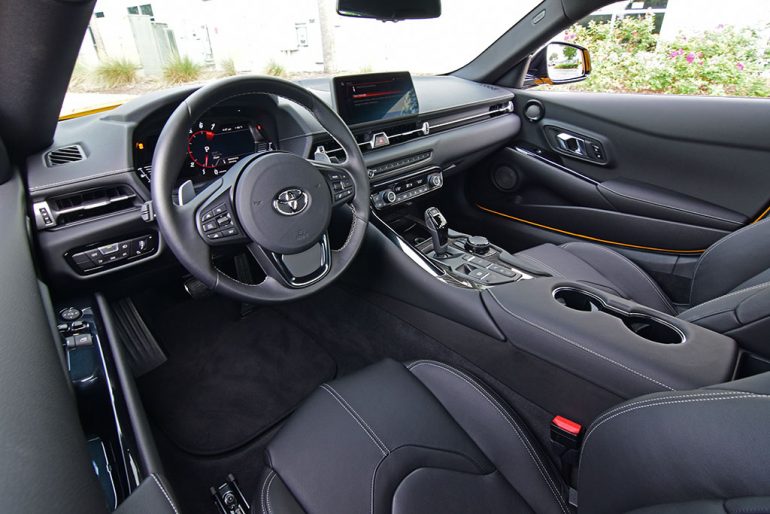 The 2021 GR Supra has plenty of BMW equipment as I have mentioned in my review last year, which isn't a bad thing at all considering how fast the responsiveness of the latest iDrive infotainment system is that offers a welcomed redundancy of controls. The styling, which some claim is controversial, looks its best when it's shod in my test vehicle's Nitro Yellow paint. In my opinion, the styling when painted with a bright color or in black is something for Toyota to be proud of as it elevates the Supra's looks as to gain a few more fans who first balked at the exterior of Toyota's new sports car. There's something special about a bright eye-catching paint color that can do wonders for a vehicle that at first sight may have not been welcomed into the arms of most enthusiasts.
The interior of the 2021 GR Supra is all of what I have enjoyed and questioned in my previous full review. What I was disappointed by is Toyota didn't address the wind buffeting issue of the Supra you get when you roll down the windows at travel at speed. It's annoying and sometimes painful for your passenger when you have a hard time holding a conversation because of turbulent air building up in the cabin with the windows down. Moreover, the small light sensor located next to the headlight controls often fails to pick up the ambient lighting thus prematurely dimming the unique color gauge cluster and the 8.8-inch infotainment touchscreen. Fortunately, the color heads-up display doesn't automatically dim with the screens during those times. These are small issues but can be deal-killers for the new Supra that I hope Toyota/BMW decides to fix sooner rather than later.
Having a rear-wheel-drive sports car nearing 400 horsepower and under $60K is a winner in my book, even if it doesn't have the availability of a manual transmission. The Toyota Supra is attractive in this way and anyone who pays the admission for a loaded-up GR Supra like my test vehicle at $57,185 will not be disappointed in the performance that it offers along with the bevy of amenities and all the expected active safety equipment (lane departure warning/steering assist, forward collision alert/emergency braking, blindspot monitor, rear cross-traffic alert, and full-speed dynamic radar cruise control) available in the current mainstream gamut of automobiles.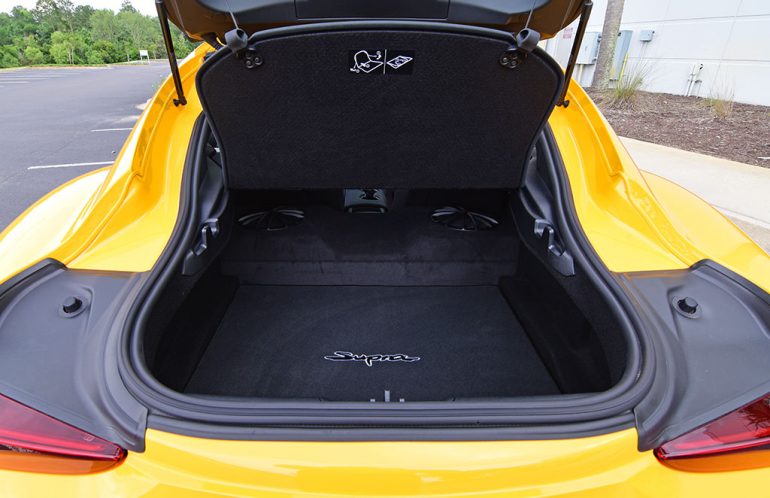 I believe the "new Supra" will be looked upon as something great if we give it a little more time. With the prices of sports cars becoming outrageous and unattainable for younger demographics, the Supra looks more intriguing with time and considering its respectable performance and a dash of hopeful Toyota reliability despite the heavy BMW influence. Every time I get in and drive the Supra I like it more – especially when I'm reminded of its price and head-turning factor.