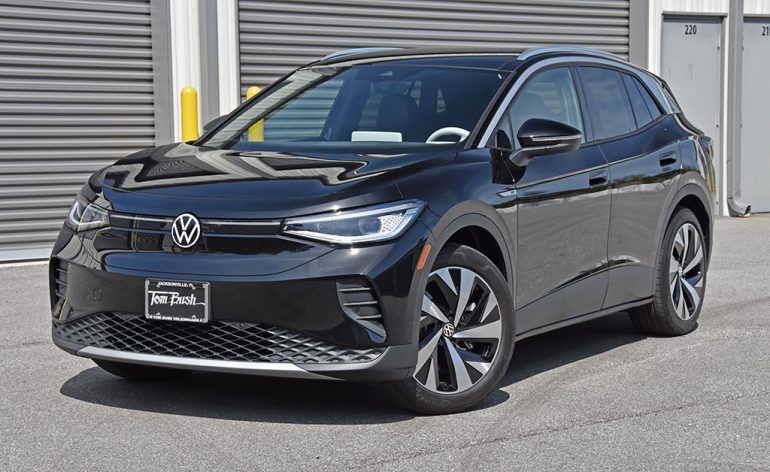 The electric vehicle movement, or whatever choice words you may have for EV vehicles being merged into our near-future lifestyle, looks to be an inevitable theme across the globe. I have my personal doubts about EVs being a good thing when I consider the current lack of infrastructure and the paltry selection we have for a new EV vehicle. Not to mention, most EVs within clear reach of Americans are mostly luxury segmented vehicles. With that, Volkswagen is poised to change things up and move the needle firmly into the mainstream EV realm with vehicles like their new all-electric ID.4.
I had the chance to experience the new Volkswagen ID.4 for just a quick spin, thanks to my good friends at Tom Bush Volkswagen here in Jacksonville, FL. They loaned me one of their new ID.4s to take for a nice drive around town and I was only able to take away some quick observations that could very well change after getting an opportunity to spend more time with the all-electric ID.4.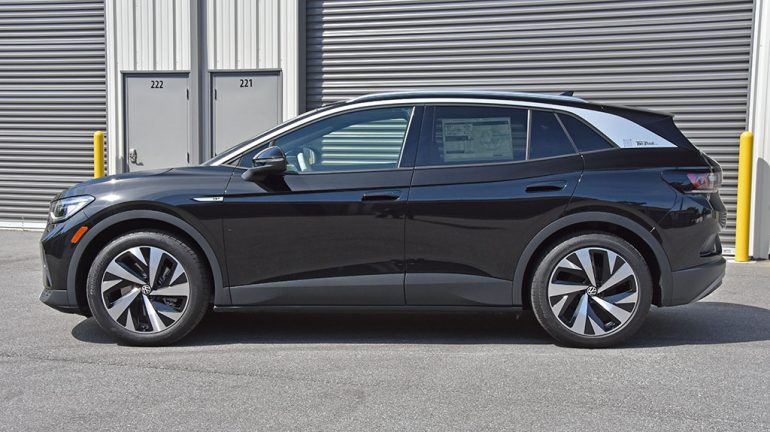 Jumping into the new VW ID.4, I couldn't help but to think I am entering into the future, a near future when EVs are common placed, and the ID.4 was there to help mold such a futuristic culture. The new ID.4 is, surprisingly to some, is billed as an electric SUV but from my quick experience it basically drives like a car with a little extra top-heavy weight. Having driven several Tesla vehicles in the past, I could not help but to immediately compare the ID.4 to such and closely relate it to the Tesla Model 3 and new Model Y. Only thing, the ID.4 was noticeably from a company that's built cars for decades and it shows – roll with me here. The ID.4 is more of a cohesive automobile versus a Tesla. Not saying a Tesla is not put together well but it seems VW attempted to be more Tesla-like, but their roots still showed in the redundancy of certain characteristics, drivability, and the way you interact with such a vehicle. In a way, VW brings what most are familiar with in "normal" gas-burning vehicles to the ID.4 platform as to avoid causing much confusion other than the vehicle being an EV. In a nutshell, the ID.4 is as close to a "normal" gas-powered vehicle as you will get in a brand-new EV today.
Power from the ID.4 provided by its 201 horsepower electric motor feels a bit sluggish if you are at all used to what Tesla feels like. Sixty mph even takes a while to reach, about 7.6 seconds. Though, the ID.4 isn't "slow" as there's a good amount of instant torque from the electric motor, a total of 229 lb-ft, customary to what VWs are all about in their gas-powered fleet. Still, the somewhat paltry amount of power for a vehicle that weighs 4,698 pounds, isn't' conducive to appeasing enthusiasts. However, the ID.4 isn't an enthusiast vehicle, its more or less a transportation appliance that's going to essentially bridge a gap into the world of mainstream "affordable" EVs.
The EPA-claimed range of the ID.4 is 250 miles, and I would bet that such is attainable with mindful driving habits. The test vehicle I drove around for about an hour actually saw an increase in range from 170 miles up to 188 miles of range after slowly setting off on my trip. I attribute such to me driving rather slow and glancing around the cabin to become familiarized with the new ID.4. I honestly wasn't paying much attention to driving fast as I was driving below the posted 65 mph speed limit in the slow lane at about 58 mph (something I rarely do). The crazy thing about the 5.3-inch configurable color gauge cluster display is that it fails to give you the battery charge percentage. It only displays the range, which for the tech geeks and maybe some Tesla fans, is kind of mind-boggling and possibly to temper range anxiety. Regardless, range kept on par with its estimate after about the first 8 miles of driving and it increasing ever so slightly due to the conservative driving and regenerative braking that's mostly seamless for overall braking feel. Right at 188 miles of range it started to drop off and stayed with its prediction over the next 10 miles landing at 176 miles just before I started to have a little fun with the ID.4. The mid-range throttle feels more than adequate using every bit of instant torque to push you back in the seat. Where things feel they could use a bit more oomph is the initial acceleration and at full throttle where power feels to leave you wanting just a little more. Again, the ID.4 isn't slow, it's just hard to LOVE the performance when you feel the heft of the 4,600+ pounds and there's a Tesla Model 3 Performance driver next to you mean-mugging you to death and daring you to pass him.
Getting to all else that matters, the ID.4's cabin is exceptional with only a couple of items to become acclimated to, such as the too-smart-for-their-own-good window switch controls and a 12-inch infotainment screen that takes a while to access certain features that should otherwise have a physical control, such as the climate controls, sunshade, and even the volume adjustment.
Interior space is good as well with plentiful adjustments up front combined with excellent rear seating and cargo room out back. Part of the spacious accommodations is why VW can call the ID.4 an SUV, which I totally get considering how well SUVs are selling these days.
Charging the ID.4 is claimed to take 7.5 hours using a 220V charger with a fast charger cutting down on the time to take about 38 miles from a 5% charge up to 80%. However, you cannot view the battery percentage when driving, only on the center infotainment display mostly for a charging indicator when you plug it in.
Volkswagen promises to lead the way for building America's charging infrastructure and the ID.4 will be one of the first vehicles to take advantage of all those new shining charging stations as they come online. As far as the ID.4 hitting your wallet, you're going to be expected to shell over about $45,995 for the loaded-up ID.4 First Edition example you see here before the $7,500 federal tax credit that you can collect for buying the ID.4 EV.
Hopefully I can spend more time with the new ID.4 one day soon and report back my findings on range, charging, and living with an EV in today's landscape. A special thanks goes to Jim at Tom Bush Volkswagen – be sure to mention this review if you go check out the new ID.4 or any other vehicle at Tom Bush!