With the release of the new-and-improved PhotoVue SW271C, BenQ is once again hoping to win over photographers with impressive color accuracy and targeted photo editing features at a reasonable price. But unlike the original SW271, the SW271C is entering a much more competitive marketplace, at a price that isn't quite so "reasonable" anymore.
The BenQ SW271C is an update to the popular SW271: a 4K photo editing monitor released in 2017 that offered professional-grade color accuracy for only $1,100, while companies like EIZO and NEC were charging hundreds of dollars more for equivalent specs. That monitor has topped many a "best monitors for photography" roundup thanks to its 99% coverage of AdobeRGB, support for hardware calibration with a 14-bit 3D LUT, "10-bit color" — more on why that's in quotes below — and a relatively low price.
The SW271C builds on the SW271's popularity by adding or updating several important features, expanding its video editing capabilities, and increasing the price by $500. The questions we want to answer in this review are pretty straightforward:
Does the monitor live up to the performance claims?
Is it worth the extra $500?
Design and Build Quality
On the surface, there is essentially no difference between the almost 4-year-old SW271 and the brand new SW271C. You get the same plastic exterior, the same chunky bezels, the same circular menu buttons, and the same 5-piece monitor hood. They both also use the same massive monitor base, which is almost comically large for a 27-inch 16:9 monitor. If I were keeping this for longer than the few weeks it took to review, I'd definitely put the SW271C on a monitor arm and save myself the desk space.
The one change in design is the addition of the second generation "Hotkey Puck G2," which is a big improvement on the G1. It keeps the same three programmable buttons on the outside—set by default to AdobeRGB, sRGB, and Black & White mode—an input button, and a "back" button, but adds a mechanical dial with its own click mechanism to the center. That dial's rotation can be set to control the display's brightness, contrast, or your computer's volume, while the center button can be set to toggle color spaces, inputs, or mute.
I've owned a BenQ SW2700PT for over 2 years, and rarely use the included Hotkey Puck G1, but since receiving the SW271C for review, I've been using the G2 consistently to switch color spaces, adjust brightness, and toggle between inputs when I have both my Mac mini and a laptop connected to the display at the same time.
The other updates can be found in the included I/O. The port selection is unchanged: one USB Type-C, two HDMI 2.0, one DisplayPort 1.4, a headphone jack, and one upstream USB Type-B that feeds a hub with two USB Type-A ports and an SD card reader. The difference is that the USB Type-A ports have been upgraded from USB 3.0 to 3.1, and the USB Type-C port now features 60W of power delivery (formerly a measly 10W) so that you can go truly single-cable depending on your device.
I would have loved to see 90W of power delivery to support beefier laptops, but there's really nothing to complain about here — I've used much more expensive "creator" displays that do deliver 90W over USB-C but omit more useful features like a USB-A hub and SD card slot.
Performance Check
The main performance claims that BenQ makes with the SW271C is that it can deliver 10-bit color with 99% coverage of AdobeRGB and 90% coverage of DCI-P3 at a Delta E of 2 or less. The company also claims that the display can be used to edit HDR content. This is all technically true, but there are some caveats.
Bit Depth and Brightness
At the heart of the BenQ SW271C is a 4K, 8-bit+FRC IPS panel that maxes out at 300 nits. Yes, 8-bit. Yes, 300 nits. Neither of these things seem compatible with the claims of 10-bit color and HDR support, but BenQ isn't lying. The monitor really does support both of these features… sort of.
10-bit, in this case, means 8-bit + Frame Rate Control, abbreviated FRC. This technique is common for "10-bit" monitors in this price range, and involves approximating a color value that can only be displayed in 10-bit by switching very quickly between the two 8-bit values on either side of that color. Do I wish BenQ would say this flat out in the monitor's marketing or documentation? Yup. But it's hardly the only monitor maker to claim "10-bit" when what's really going on is 8-bit + FRC. Word to the wise: take the claim of "1.07 billion colors" with a grain of salt until you've checked the monitor's panel specs with Display Specifications or a similarly reputable source.
HDR is a similar story. In this case, it simply means that the monitor supports the HDR 10 and HLG formats, but the panel is not capable of reaching the kind of brightness or contrast required to earn any VESA DisplayHDR certification — not even the lowly DisplayHDR 400. It's nice that these formats are supported and you can definitely use the monitor to preview HDR content in a pinch, but don't buy the SW271C if you're primarily going to be editing HDR content. You'll need to pick up a monitor like the Dell UP3221Q to get true HDR performance from your display.
Color Gamut, Delta E, and Uniformity
While BenQ may have bent the truth a little bit with the claims of HDR and 10-bit color, there was no need to do the same for color gamut coverage and Delta E. Color accuracy on this display is top-notch.
Testing the BenQ SW271C with an X-Rite i1Display Pro Plus in both i1Profiler and DisplayCAL, we were able to confirm 99% coverage of AdobeRGB, 90% coverage of DCI-P3, and 100% coverage of sRGB for this panel. Notably, that's actually a lower spec for DCI-P3 coverage than the old SW271, but BenQ tells us that it made this trade-off on purpose, saying that "though this panel has slightly lower DCI-P3, it has greater color and uniformity performance."
We were also able to confirm BenQ's claims that this monitor boasts a Delta E of less than two in pretty much every color patch we could test. Using the new Delta E 2000 standard, the monitor records a maximum Delta E of just 1.51; using the older (but often referenced) Delta E 1976 standard, two patches peak over 2.5, but nothing ever got close to 3.
Less than one is the dream, but anything less than two is considered outstanding, as it's nearly impossible to detect with the human eye.
The monitor's brightness uniformity was also impressive. We measured a Delta E of four or less across the board on i1Profiler's uniformity test and got very similar results from DisplayCAL. We can't comment on whether this is an improvement from the 2nd Generation Uniformity Tech in the original SW271, but it does seem that the SW271C scores high marks despite using edge-lighting instead of the more expensive direct backlight you'll find in some higher-end monitors.
Below, you can see the report from a 5 x 5 patch test we performed in DisplayCAL. Click to enlarge:
Finally, let's discuss edge-lighting. We did not notice any backlight bleed, uniformity issues, or color inconsistency across our testing, despite watching out for these things pretty closely from the get-go. Edge lighting makes me wary when you're dealing with a display that boasts professional-grade uniformity and color accuracy, but the BenQ SW271C delivered for me on all counts.
Additional Features
Excellent color accuracy and uniformity are the core of any good photo editing monitor, but BenQ has also baked in a few nice-to-have features that didn't exist in the previous model. For photographers, two are worth diving into a bit deeper.
Third-Party Hardware Calibration Support
First and foremost, the monitor now supports third-party hardware calibration for those using CalMan Studio or Light Illusion's ColourSpace. This is a "good news, bad news" situation. Good, because hardware calibration is superior to software calibration, and third-party solutions are more widely supported than proprietary software like BenQ's own Palette Master Element; Bad, because these are two of the most advanced and expensive color calibration solutions on the market and they're aimed squarely at the high-end cinema crowd.
This is an odd choice. At a DCI-P3 coverage of just 90% and a max brightness of 300 nits, this isn't going to be anybody's first choice for high-end cinema color grading — heck, Calman Studio alone costs almost $2,000. But when we asked BenQ's engineers if they had plans to expand this compatibility to more common (read: cheaper) monitor calibration software used by photographers, they basically just said "no."
"[Regarding] photo editing, we already have our own [Palette Master Element] software, which supports X-Rite and Datacolor calibrators," said a spokesperson. "This is why at this moment we don't have plans to support i1 Profiler or Spyder software to do hardware calibration."
It seems photographers are still stuck with PME for now.
Paper Color Sync
Paper Color Sync is a neat idea, and only available on the SW271C and its bigger sibling, the SW321C. It's sort of like hardware calibration for soft proofing your prints: using a companion app, you can select your photo's color gamut, your printer, and your photo paper, and Paper Color Sync will adjust the colors of the display at the monitor level so that you get the most accurate on-screen preview of the final printed image while you edit.
You can see a demo in the promo video below:
Whether or not this is any easier, more accurate, or more appealing than the soft proofing functionality already built into apps like Photoshop and Lightroom is up for debate, but it's a nice option to have. Just make sure that your printer and paper are supported because only a select few Canon and Epson products made the cut.
Conclusion: Love the Updates, Hate the Price Hike
BenQ has done a lot to bring the PhotoVue SW271C up to date with the rest of their lineup. You get USB-C with 60W power delivery, improved uniformity, a better 3D LUT for hardware calibration, the Paper Color Sync feature, and the new and improved "hotkey puck" that lets you more easily change OSD settings on the fly. If you shoot video on the side, you also get better frame rate support and compatibility with the HDR10 and HLG formats.
When you combine these with the features that were already great on the original SW271, the Pros list gets pretty long:
Pros
99% AdobeRGB Coverage with Delta E
Third-party hardware calibration support (albeit limited)
USB-C with PD for single-cable workflow
16-bit 3D LUT
Support for native 24P, 25P and 30P video playback
3rd Gen Uniformity Technology with solid performance
Paper Color Sync for monitor-level soft-proofing
Built-in SD card slot and USB Hub
Second-genration Hotkey Puck
While the Cons list is pretty short:
Cons
Still 8-bit + FRC
Max brightness of 300 nits makes it a no-go for HDR
Dated design with thick bezels and massive monitor stand
Super Short USB-C cable in the box
Too expensive
Overall, the PhotoVue SW271C delivers a respectable update to a fan favorite. But it suffers from one major con that, to my mind, outweighs the improvements that BenQ has made: the new $1,600 price.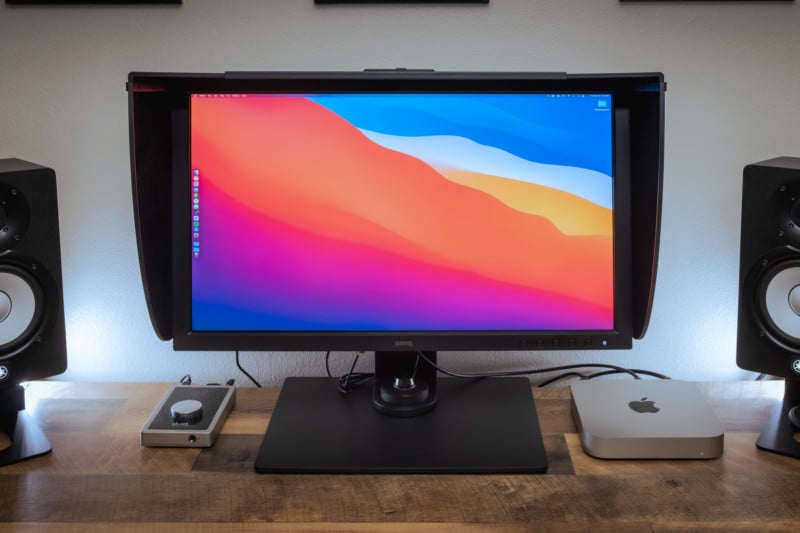 Final Thoughts
The Achilles heel of this monitor isn't a "missing" feature or a dated design. It's the price.
At $1,100, the BenQ SW271 is a solid deal for a 27-inch, 4K, 8-bit + FRC photo editing monitor with great AdobeRGB coverage, a 14-bit LUT, and support for hardware calibration using the PME software. This was true in 2017 and it's still true today. It's also true that BenQ has added valuable new features to the SW271C: 16-bit LUT, better brightness and color uniformity, some nice video-editing features, the ability to simulate printing color, et cetera, et cetera.
But at its core sits a nearly identical IPS panel with 99% coverage of AdobeRGB and 8-bit + FRC dithering to approximate 10-bit. That's the beating heart of this monitor, and that heart isn't sufficiently improved in my opinion to warrant a $500 price increase. Meanwhile, the market for creative displays has exploded, with everyone from Apple to ASUS to Dell to HP to MSI to Samsung releasing displays tailor-made for photo and/or video editing — to say nothing of NEC and EIZO. The market has expanded, the options are plentiful, and the bar is continually rising.
In other words: the BenQ SW271C is easy to recommend… but it's hard to recommend at this price.
Are There Alternatives?
In terms of price, the ASUS PA329C offers the same 4K resolution and excellent AdobeRGB coverage in a larger 32-inch panel with true 10-bit color for just $1,120, while the Dell UP2720Q gets you true 10-bit color, 100% AdobeRGB coverage, 98% DCI-P3 coverage and a built-in colorimeter for $1,600 (on sale at the time of publication). Both monitors made our "best photo editing monitor" list and both offer an impressive range of features.
If reliability and reputation is your main concern, the QHD NEC MultiSync PA271Q or 4K EIZO CS2740 are both great options that earn a stamp of approval from even the most discerning photographer. The EIZO is a bit more expensive, especially if you go with the variant that has a built-in colorimeter, but you can't really go wrong with either brand when it comes to color-critical work.
Should you Buy It?
We try to end these reviews with a yes or no, but the BenQ PhotoVue SW271C earns a solid "maybe."
On the one hand, there are no missing features I can point to as deal-breakers, and the monitor has passed all of our tests with flying colors. Not only does color and uniformity measure up to the marketing, but the monitor also comes with some cool creator-focused features like Paper Color Sync, support for third-party hardware calibration if you use Calman Studio or ColourSpace, and better video editing support than its predecessor.
On the other hand, at $1,600, we simply can't give it our full-throated recommendation. Even if you ultimately decide that the BenQ SW271C is the best option for you, there are several alternatives that you basically have to consider before you pull the trigger.
In the past, one of the most compelling things about buying a BenQ PhotoVue monitor was the price. You were getting a 2K or 4K monitor with 99% AdobeRGB coverage for a lot less than the traditional names that own this segment. It's what made the BenQ SW2700PT the entry-level king and earned the BenQ SW271 such high praise. With the release of the SW271C, BenQ is making a statement. On performance and features alone, the company believes that this monitor is worth more than the sum of its parts. It's up to photographers (and their wallets) to let BenQ know if that was a good call.