Since Apple launched the M1, software developers have been racing to release new versions of applications to take advantage of its new architecture, with the most recent update coming from the Capture One Pro team. But just how much of an improvement should be expected from native support?
According to the product release notes, Capture One Pro version 14.2 promises significant improvements to performance with the optimized native software with imports up to two times faster and asset management time improved by 50-percent. The company also states that generating previews, editing, and processing "has the capacity to be up to 100-percent faster."
After rigorous testing, I can confirm this to be mostly true.
The Test
To test the various promises that Capture One Pro says its new version offers, I gave the program a sample set of 100 Sony Alpha 7R IV RAW files and 150 Phase One medium format RAW files (Phase One XF with the IQ3 100-megapixel back). These were used in a series of imports and exports in both session and catalog settings on Capture One Pro version 14.1.1.63 and 14.2.0.136 and were run on a late 2020 model M1 Mac Mini with 16 gigabytes of RAM and a 2 terabyte SSD Drive. Every benchmark is the average of at least three consecutive runs to adjust for any inconsistencies.
The Results
First up was the export of 100 Sony a7R IV files in 100-percent JPEG and 16-bit TIFF output, and the results were impressive. On the previous, non-native version of Capture One Pro, that export of the Sony files took 412.5 seconds, while the new native M1 version did the same export in just 304.7 seconds, for a difference of 107.8 seconds.
The TIFF export test for the Sony files produced similar results, with the previous version of Capture One exporting 16-bit files in 371.1 seconds and the M1 version exporting the same files in just 282.5 seconds for a difference of 88.6 seconds.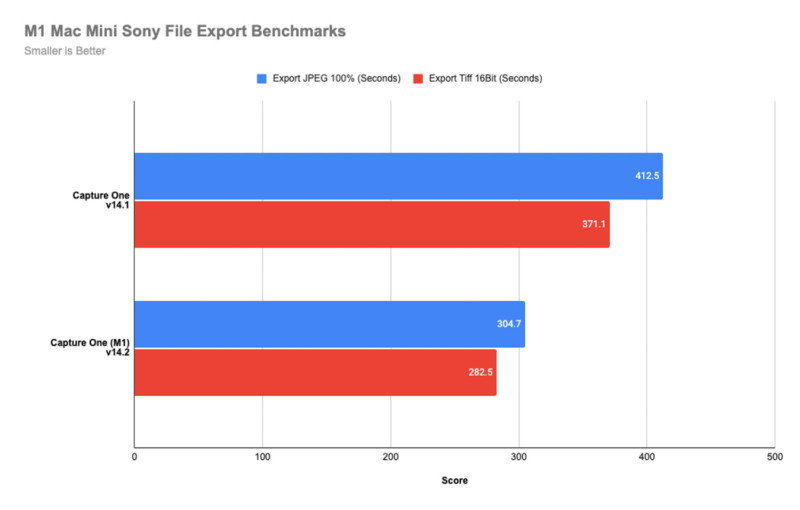 After multiple rounds of testing, the Sony file exports averaged an improvement of between 30 and 35-percent, which is pretty close to what the company claims in the release notes.
With the medium format Phase One photos, I found similar results. Exporting 150 100-percent JPEGS in the previous version of Capture One resulted in an average export time of 1,360 seconds when the M1 version did the same job in just 1,008.6 seconds for a difference of 351.4 seconds. The 16-bit TIFF export test on the previous version of Capture One completed in 1,236.2 seconds and the M1 version finishing in only 934.2 seconds for a difference of 301.99 seconds.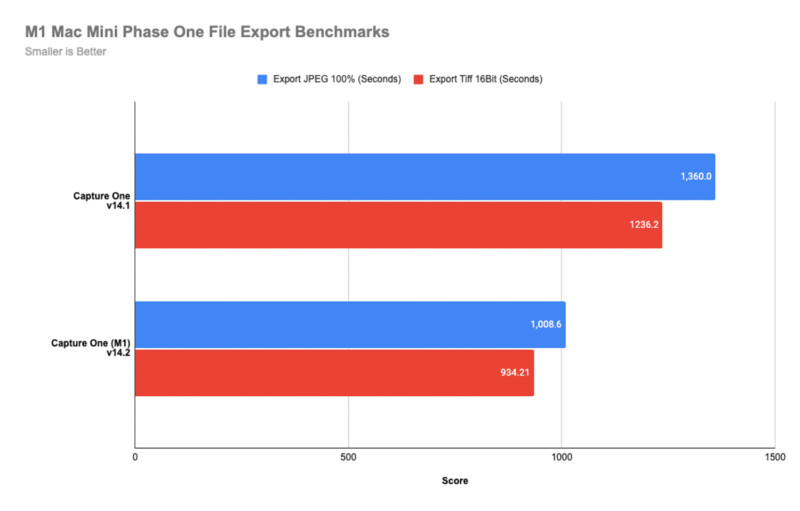 Once again, after multiple rounds of testing, the medium format file exports averaged an improvement of between 30 to 35-percent. From my perspective, the operations were looking pretty consistent throughout the rest of the application and general editing. As the company claims, operations feel faster and smoother in the latest Capture One Pro…
…that is until you look at import and preview generation speeds.
Importing images in Capture One has always been impressively fast compared to other RAW processing engines, but in a notable twist, the background preview generation for our test files in the M1 version of Capture One Pro did not go as expected. Where every other aspect of the app seems to have improved quite significantly — with an average of 30-percent or more speed improvement — preview generation actually got slower.
Over the course of dozens of import and preview generation tests, we were able to consistently see an increase in preview generation time of about 30-percent for both the Sony full-frame RAWs and the Phase One medium format RAWs. You can see the results of these tests in the chart below.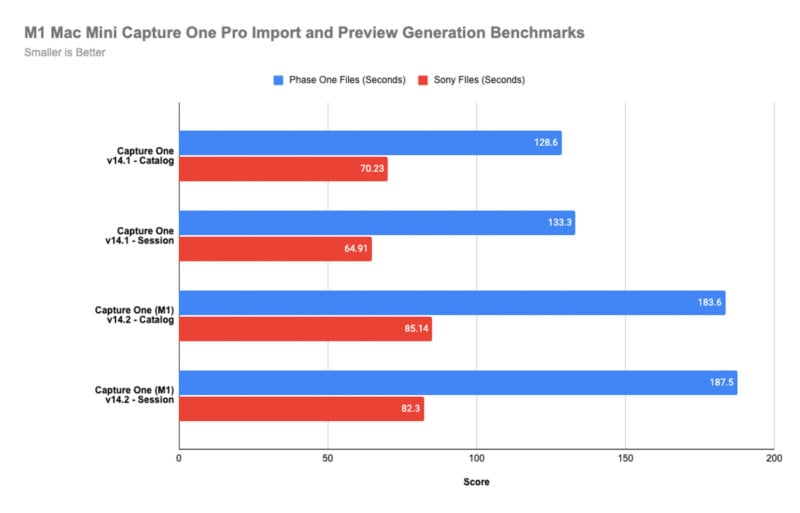 It should be noted that with Capture One, preview generation is categorized as a "background process" that has next to no impact on a photographer's ability to work with their files. Just like the previous version of Capture One Pro, file imports appear nearly instantaneous, which lets you get to work on them almost immediately. However, the drop in speed of that background process of preview generation had me concerned. Seeing as this behavior was in contradiction with the performance improvements in every other section, we reached out to the Capture One Pro development team for an official statement to be sure it wasn't just our results seeing this.
"We have seen in our performance tests that while import is faster in Capture One 21 (14.2), preview generation produces mixed results compared to v14.1," Senior Product Manager Alex Flemming said. "This especially hits images of super high resolution. While preview generation is a background task separated from importing and shouldn't affect the performance once the images are imported and visible in the browser, it's still one of the areas where we can improve the general performance in future releases.
"As this is our first version of Capture One with native M1 support, we are still working hard on further enhancements to fully utilize the power of the new ARM architecture the M1 machines are built on. Just like we have improved the codebase for Intel machines over many years, ARM-based machines will also receive improvements in the years to come."
To summarize, once the images are imported, photographers can just close the progress bar — if it is open — and start working immediately while the preview generation process continues working in the background. While it is slower, many likely won't notice.
Faster Where You'll Notice
The comparison of the two versions of Capture One Pro software on the same M1 Mac Mini provided consistent results and showed that, overall, the performance has been significantly improved with the native version of the editor. In testing, we saw an average of between 30 and 35-percent faster speeds in almost every task thrown at the program and can confirm that overall operation of tasks feels smoother and more responsive.
While this version is a welcome and improved update, there is still some room to improve though, as the speed of preview generation took a big hit. Capture One promises to continue to refine the software over time and hopefully resolve this issue as well as continue to improve the speed of the rest of the platform.