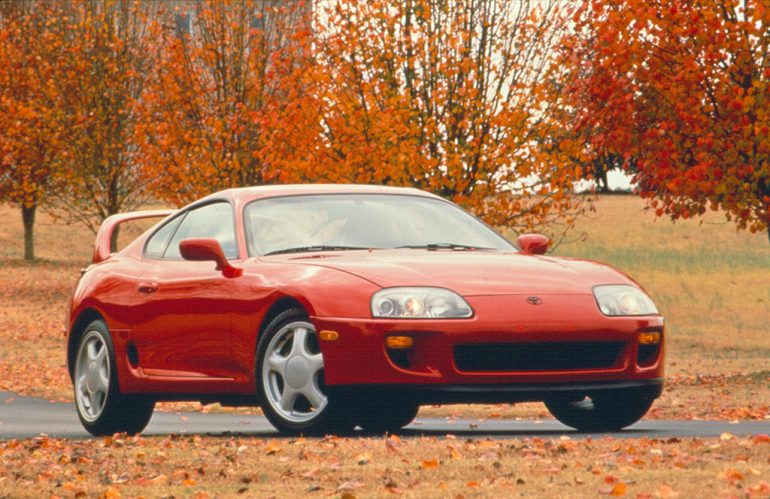 I've been a car enthusiast most of my life, and I take delight in getting to see or experience some amazing vehicles in my career and seldom purchases of automobiles. Most of my friends and family will tell you which cars I like, but not many know that I have a special place in my heart for the fourth generation Toyota Supra, a vehicle that has eluded me a couple times as some unique examples came up for a purchase opportunity. Even though I don't currently own all my dream cars, yet, including the Toyota Supra MKIV, I tend to gravitate to the owners of such a vehicle and attempt to relate to their experience. One Toyota Supra experience that has captivated me and undoubtedly refocused my passion in caring for and becoming closer to our fellow men and women who aspire for their "dream" vehicles or happen to own a few, is a recent story in the memory of the late Travis Wilson.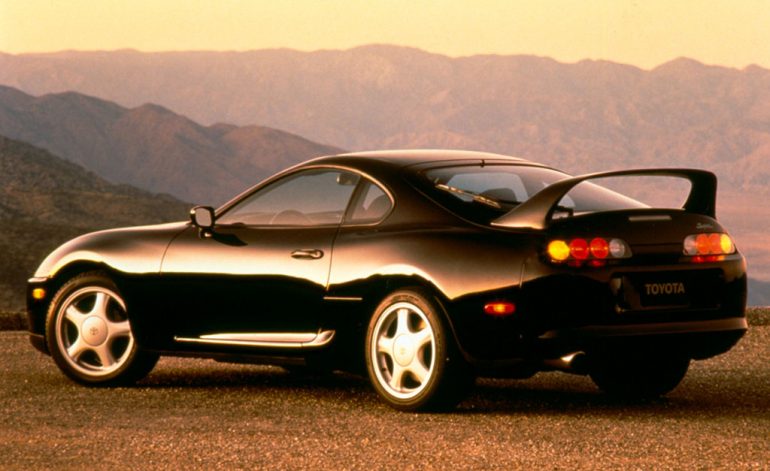 Travis' passion for his 1994 Toyota Supra Twin Turbo project car, which was eloquently shared by his family in the story I'm fortunate enough to share with you here, is not just another tragic case, but rather a tragedy turned into a shared passion to strengthen the automotive community that reaches a common ground among people to inspire – no matter the hardships or struggles that we all face in life. At this year's 2021 Amelia Island Concours d'Elegance on Sunday, we can all witness a piece of Travis' passion and the inspired labor from friends, family, and The Creative Workshop in seeing to it that his Supra project reached completion, even though Travis is no longer with us.
My extended dream here is that the Wilson story helps others who may be facing opposition in life or been at the front door of tragedy. Just remember, there's good in just about everything, we just have to find it.  Enjoy! – Malcolm Hogan, Publisher, AutomotiveAddicts.com
Those attending the 2021 Amelia Island Concours d'Elegance will get to see this remarkable Toyota Supra in it's full "completed" glory, Sunday, May 23rd, on the main field in the SuperCars Class. 
1994 Toyota Supra MKIV (A80)
In Memory of Travis Wilson, Parkland, Florida 12/6/1991 – 12/25/2013
-Words and images by Jason Wenig, The Creative Workshop
The Car:
The Toyota Supra (Japanese: トヨタ・スープラ, Toyota Sūpura) is a sports car and grand tourer manufactured by Toyota Motor Corporation from 1978 to 2002 and again in 2019 to-date.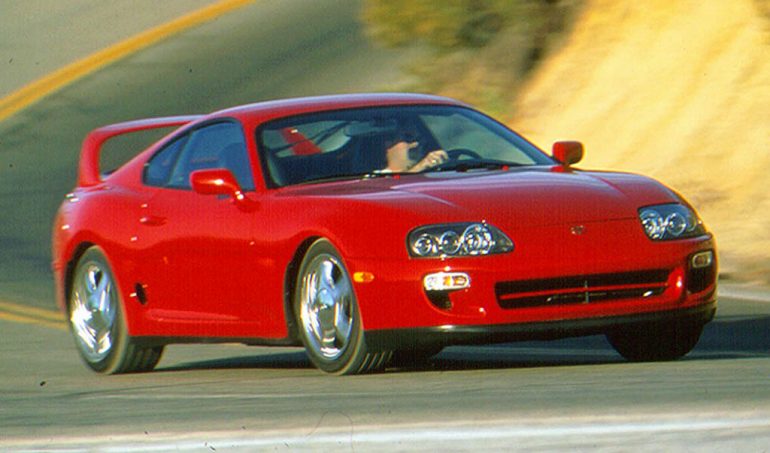 The styling of the original Supra was derived from the Toyota Celica and its performance roots were derived from the famed 2000GT (with its "M engine" inline-6 layout and chassis code "A"). Starting in mid-1986, the original "A70 Celica Supra" became a separate model from the Celica – dropping the Celica name and becoming the stand alone "Supra" that we know today.
The Supra line was divided into five generations with the Fourth Generation ceasing sales in the United States in 1998, and production completely stopping in 2002.  In January 2019, the long awaited and anticipated Fifth Generation Supra was introduced to critical acclaim.
The Fourth Gen car – or A80 – began development in February 1989 with the first prototypes being hand-assembled in 1991 and official mass production beginning in April 1993.
This "4th Gen redesign" saw Toyota placing great emphasis on a more serious high-performance car. The A80 featured two new engines: a naturally aspirated 2JZ-GE engine (220 hp/210 lb⋅ft⋅tq) and a twin turbocharged 2JZ-GTE engine (276 hp/318 lb⋅ft⋅tq) for the Japanese models and 321 hp/315 lb⋅ft⋅tq for the American and 326 hp/325 lb⋅ft⋅tq for European markets. The car also received a new six-speed Getrag gearbox for the turbo models and a new five-speed transmission for the naturally aspirated models (automatic transmissions were available as well). The car also boasted specialized features like a four-sensor, four-channel track tuned ABS system with yaw control which allowed the brakes to be controlled individually according to the speed, angle, and pitch of an approaching corner. This unique Formula One inspired braking system provided the best braking performance of any production car at that time, a record that was only and finally broken years later by the 2004 Porsche Carrera GT.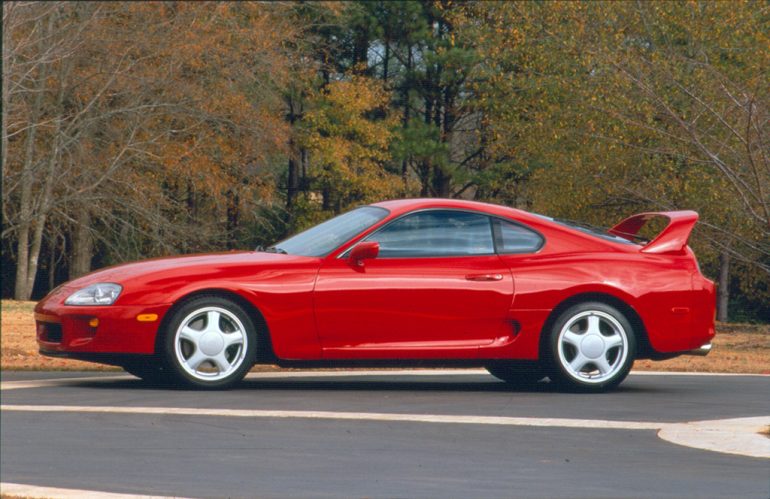 Toyota also took measures to reduce the weight of this new model utilizing aluminum for some body panels, engine and crossmember components, forged upper suspension A-arms, special hollow carpet fibers, magnesium steering wheel, plastic gas tank and various other tweaks to cut down on weight. Despite having more features such as dual airbags, traction control, larger brakes, wheels, tires, and an additional turbocharger, the car was at least 200 lb lighter than its predecessor.
The turbocharged variant boasted a 4.6 second 1/4-mile in 13.1 seconds at 109 mph and a top speed of 160 mph (although the cars were restricted to just 112 mph in Japan and 155 mph in worldwide markets).
The Legend:
The Middo Naito Kurabu (or Midnight Club) was a well-known and highly-respected group of illegal street racers in Japan. This "gang" shot to worldwide infamy thanks to its combination of dangerously high-speed racing and aggressive driving styles, but also for its clandestine operations and strict code of ethics. They raced on Tokyo's Shuto Expressway, a 70km stretch of tarmac that traces the shoreline of Tokyo Bay.
Originally regarded as criminals, the Midnight Club became the darling of the burgeoning Tuner scene and was featured in hundreds of editorial features aimed to capture and glorify the gang's high-speed, high-adrenaline activities and semi-mythical existence.
Formed in 1987, the absolute minimum requirement for a hashiriya street racer to join was to own a car that was capable of going at least 160mph, and competitive drivers were expected to be able to achieve racing speeds of 200mph or more. At the time, all vehicles in Japan were electronically limited by law to a top speed of 112mph, and so members were also expected to have a high degree of mechanical know-how in order to boost their cars' performance (and circumvent these restrictions!).
Here in the US – while the Japanese Tuner race scene was flourishing – the US car community met these modified Japanese sports cars with skepticism. Often scoffed at as "not the same thing as our hot rod heritage" – these newer "digital" cars were deemed "not customizable" – and the first generation of modifications – usually only a "cat-back" exhaust – further supported the belief that "our rich history of hot rodding cars" was being lost on the new generation.
Whereas the American speed, hot rod and racing scene grew from returning WWII GI's looking for adrenaline in their post-war years, this newer Tuner world didn't have such a foundation.
That is, until the American movie world picked up on the Japanese "Midnight Club" phenomenon and created the Fast and Furious franchise. This Tuner sports car/lifestyle movie captured the younger generation's imagination – the speed, danger and "clandestine" nature of the "underworld street scene" – and galvanized the American Tuner culture under a common flag.
Practically overnight, the Tuner world exploded in the US and the "old guard" began to accept the "new guard" – as they went well beyond an exhaust change, delving deeply into the world of radically upgraded engines, turbo chargers, nitrous, suspensions and all sorts of customizations. The American Tuner world had arrived – and it hasn't looked back since (along with 9 additional installments of the Fast and Furious franchise!).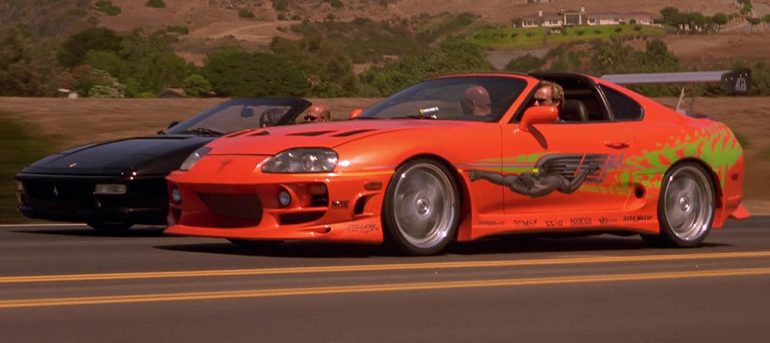 In the Furious franchise, one car, perhaps more than all the rest, stood out – the 1994 Toyota Supra Mark IV driven by the movies protagonist – Brian O'Conner (Paul Walker). Combining Toyota's development of the Supra into a powerhouse sports car, its capabilities on the streets of Japan – and the "stardom" it received in the Fast and Furious movies – the Toyota Supra had become the legendary "poster car" for the entire Tuner movement.
Of all of the variants of the Supra, it is the MKIV, twin turbo, JDM (Japanese Domestic Market), right hand drive car that sits atop the throne.
It is this very car that we are submitting for inclusion in the 2021 Amelia Island Concours d'Elegance.
This Car:
The story of our submission, a 1994 Toyota Supra MKIV (A80), JDM 2JZ-GTE, twin turbo car is both tragic and a powerful story of the car community and family.
Travis Wilson was the kid everyone wanted to be around. The leader of his group…and a serial gearhead. From working on bicycles to cars, if there was something mechanical involved, Travis was doing it, and his large group of friends always knew they could turn to him for help.
Travis's passion and leadership led him to form a local Tuner car club – a place where this newly growing Tuner community could gather and share passion, lifestyle, tech and bragging rights together.
In 2011, Travis set his sights on the legend – the JDM Supra – the perfect car for the leader of the pack. The car that led the Fast and Furious franchise, the car that everyone wanted.
It wasn't long before he found one – a JDM that had been tucked away in the States – waiting for its new home. Once acquired, Travis began work – paying his way and doing most of the work himself. Projects began small and grew – while he used the car, he worked on it. From engine to suspension, paint to interior – the classic "car lifestyle" relationship – one that has been repeated since the dawn of motoring, was now reborn in this new Tuner world. The car community's future looked bright.
Bu there is a dark side to the Tuner world. Similar to the Midnight racers in Japan, speed was the goal, and the streets were far too often the race track. Travis was lost in a speeding incident while driving as a passenger in a friend's car. Eerily, Travis was lost in nearly the same fashion that Paul Walker, the star of the Fast & Furious movies lost his life, living this "street speed" lifestyle.
Travis and his passion for the Tuner community, as well as his car, became part of the fabric of his family. Something that couldn't just be erased or forgotten about, and so, with the tragic loss of their son, the Wilson family decided to take his beloved Supra – and continue to do what Travis had set out to do – perform a complete and comprehensive restoration and customization to it. The car was going to be "done" in honor of Travis and what he lived for and loved.
The path to rebuild the Supra was met with some unfortunate roadblocks, twists and turns….and there were moments along the way that the Wilson family lost vision and hope the car would ever be completed. A somewhat too typical story of "finding the right people" to "do the job right" – and years passed with little to show for it.
Then, through a unique twist of fate, the floundering project/situation was introduced to The Creative Workshop. The car was taken in, and the workshop has proudly embraced the rebuild, restoration and customization of the car. Success and closure is in our sights.
Travis is remembered passionately by friends and the entire Tuner community and now his car will forever be part of our car world – for all to see, enjoy and to hopefully teach us and bring us closer together.
Those attending the 2021 Amelia Island Concours d'Elegance will get to see this remarkable Toyota Supra in it's full "completed" glory, Sunday, May 23rd, on the main field in the SuperCars Class. 
1994 JDM Toyota Supra MKIV – Notable Build Specs
Engine/Engine Bay:
Work twin scroll turbo charger
Powerhouse Racing S23 twin scroll turbo manifold
Powerhouse Racing 4″ mandrel bent stainless downpipe and midpipe
Tomei titanium 4″ midpipe back system
Plazmaman pro series 6 injector intake manifold
Bosch 82mm drive by wire throttle body
Powerhouse Racing 5″ intercooler
Titan cam gear and pulley
Tial MVR 44mm wastegates with 3 port boost control and dual dump tubes
GSC stage 2 274 degree cams
10-1 compression ratio
40 Row engine oil cooler
Mishimoto radiator
Fuel Delivery/Engine Controls:
Triple Walbro 485 fuel pumps
Weldon fuel filter
Injector Dynamics ID2600 injectors
Weldon A2024 fuel pressure regulator
Haltech 2500 Elite ECU
Haltech wideband controller
LQ9 performance ignition coils
Vibrant Performance 5″ velocity stack
Driveline:
RPS triple disc carbon clutch
RPS chromoly flywheel
6 speed V160 manual gearbox
KAAZ limited slip rear differential w/ PHR solid rear diff mounts
G-force Outlaw axles
ACPT carbon fiber driveshaft
Rotoro 4 piston brakes front and rear
TRD front strut brace
Cusco rear strut brace
Nitto NT555R 285/35 R18 – fronts – drag race/street tires
Nitto NT555R 315/35 R17 – rears – drag race/street tires
Interior:
Haltech IC-7 digital dash
Custom Recaro seats
Takata 4 point racing harness
Custom Alcantara handmade interior
Misc. Components:
Custom wiring loom
Garage Whifbitz carbon fiber components throughout
Titanium Bolts and Hardware throughout