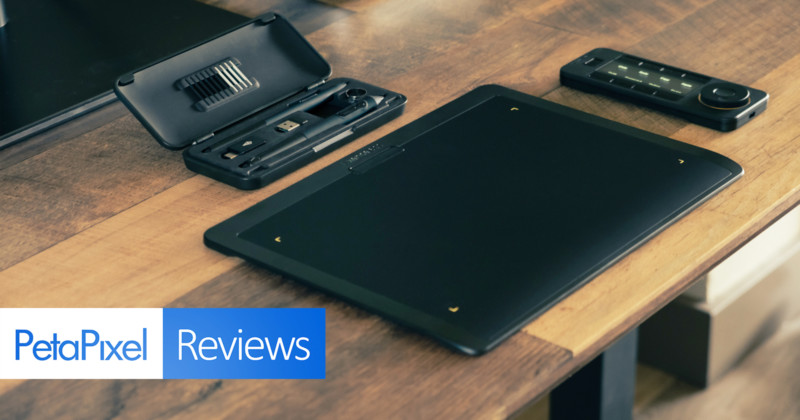 What do you get when you take a bunch of former Wacom employees, start a new company, and give them carte blanche to develop a brand new pen tablet? What you get is Xencelabs, a new player in graphics that is bringing some much-needed innovation to a stale market. This is no cheap knock-off we're talking about, Xencelabs' new Pen Tablet Medium just put Wacom on notice.
For those of you who haven't been following this space, it's not that Wacom has been short of competition lately. XP-PEN and Huion in particular have been releasing high-quality pen tablets and pen displays at an alarming clip, while also charging a fraction of Wacom prices for a similar combination of core specs. We've reviewed a few of these products and have been duly impressed by what we found.
But both XP-PEN and Huion are very clearly Wacom knock-offs. They are high-quality knock-offs that offer similar performance for a lot less money, but knock-offs all the same. You can't shake the feeling that you're using a product designed to undercut Wacom, which usually means cutting a few corners when it comes to build quality, software, customer support, and extraneous features like wireless connectivity.
That's where the Xencelabs Pen Tablet sets itself apart. It's a true-blue competitor that meets or exceeds the most stringent build standards, adds some refreshing design elements, and checks all the professional-grade boxes.
Design and Build Quality
The Xencelabs Pen Tablet Medium is available in two different configurations: a standard kit that includes the tablet and two pens ($280), and a "bundle" that includes the tablet, two pens, and the Quick Keys express key remote ($360). Whichever configuration you choose, everything in the box simply oozes "premium" quality.
The Tablet
The tablet itself is built like a tank, with a 16:9 aspect ratio, a10.33 x 5.8-inch active area, and a few really neat little design cues that make it very comfortable to use.
The active area is marked off on the corners by lighted insets that can be customized to a color of your choice, the bottom tapers to a smooth edge so you can comfortably rest your drawing hand on the tablet without a sharp edge digging into your palm, and the three built-in express keys at the top allow you to quickly access the tablet settings, adjust pen pressure, or switch displays if you're using the tablet with multiple monitors.
That last feature is particularly useful to me, as I'm frequently drawing on a laptop hooked up to a secondary display. At the touch of a button I can now toggle the tablet mapping between laptop only, main display only, or both.
The lights around the active area are also incredibly convenient, as they can be set to different colors for different apps, giving you a quick reference to ensure the right app/shortcuts are active.
Finally, the surface of the tablet itself was tooled to give you just the right amount of "bite." It is enough so that it feels like you're drawing on a natural surface instead of slick plastic, but not so much that you notice the resistance fighting you. The surface texture is very similar in feel to my Intuos Pro, and definitely superior to the other third-party tablets I've tested.
The Pens
The fact that Xencelabs includes not one but two different pens in the box is a brilliant move that further sets them apart from their main competition. The thick, traditional style pen includes three buttons while the thinner version has only two, but both include EMR erasers on the other end and they can be configured independently.
If you want the same from Wacom, you'll need to drop an additional $70 on the Pro Pen Slim.
I mostly stuck to the thick three-button pen because it felt better in my hand and I like the extra customization, but I can imagine many users who will set up the pressure curves and shortcut keys of their two pens differently, and switching between them for different tasks. One pen for pen tool selections and another for brushwork, for example.
And since they both come in the same (very sturdy) pen case, it's easy to keep everything together when you throw the tablet in your bag.
The Quick Keys Remote (Sold Separately)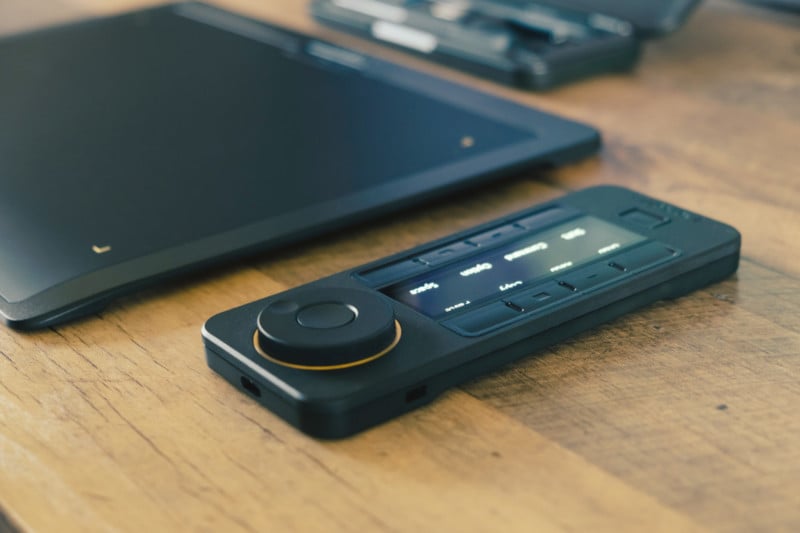 If you decide to spend the additional $80 on the Pen Tablet Medium Bundle — and I suggest that you do — you'll get all of the above plus the excellent Xencelabs' Quick Keys remote.
The lack of traditional express keys on the Xencelabs Tablet is one of its few downsides, since the three customizable buttons at the top are not really meant to be used for common shortcuts. But for $360 — which is still $20 less expensive than the Wacom Intuos Pro Medium — you can get the tablet, both pens, and the Quick Keys Remote.
The remote features eight shortcut buttons, a multi-function adjustment dial with a light ring around it, and an OLED display that tells you what each button will do. The dial can be programmed to four different settings, each with its own light color, which you cycle through by pressing the button in the center. The OLED display, meanwhile, allows you to program up to 40 different shortcuts, cycling through a maximum of 5 sets of 8 shortcuts by pressing the button at the top of the remote.
Here, again, you see Xencelabs attention to every little detail: The customizable light color, the fact it takes full advantage of the screen, and you can even select from four different orientations depending on how you prefer to work.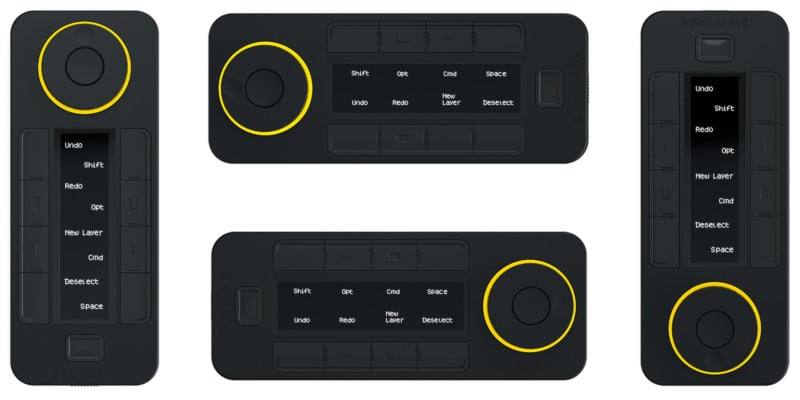 As with the pens and tablet itself, the remote can be programmed differently for each app, with a different set of shortcuts, a different set of dial settings, and a different color scheme for each of those settings.
Everything about the design and built quality of this tablet and its accessories impressed me. I've used high-quality Wacom competitors before, but no product, not a single one, felt like Wacom's equal until now. The materials that Xencelabs chose, the attention to every design detail, and the usability of all of the above sets a new bar for graphics tablet design.
Usability and Performance
Xencelabs attention to detail didn't stop at build and design, as the company put a lot of thought and effort into usability and performance as well.
The guided setup is really simple. It automatically detects all connected devices and loads them into a beautiful interface that lets you customize everything about the tablet, pens, and Quick Keys remote to your hearts' content.
However you choose to set things up, you'll have the option of using the tablet plugged in or wirelessly via the included dongle. I'll be honest, having to plug in a Logitech-like dongle to use the tablet wirelessly — when my computer already has bluetooth built right in — is a bit of a drag, but Xencelabs insists that this allows them to cut down on latency and ensure a stable connection.
I can buy that… and I can attest that I never had any connection issues when using the tablet wirelessly, which I did almost exclusively after the initial setup.
You will need to plug the tablet back in when it runs short on battery, but many hours of use over the course of one month has only drained the battery of my tablet and Quick Keys by about 50%, so battery life is really not an issue. In many ways, the connectivity, charging, and usability of the devices reminds me of my Logitech MX Master series keyboard and mouse. To borrow an overused phrase from Apple: it just works.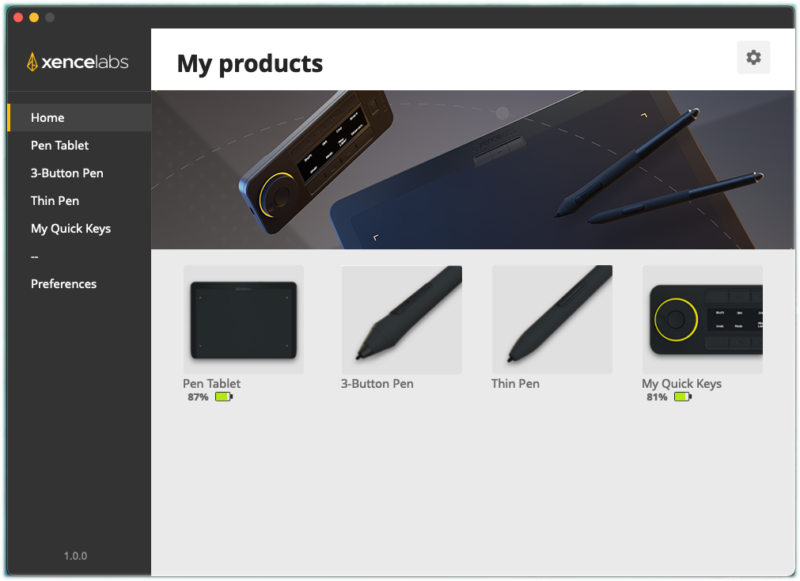 Performance was stellar. The tablet/pens boast an exacting pressure response that is extremely sensitive on the low end of the curve, and every built-in feature functioned as advertised. I even tested features I never use, like Mouse Mode, and nothing ever let me down.
In fact, from setup, through customization, through actually using the Xencelabs Pen Tablet as my main graphics tablet, I experienced only one major hiccup: in its current form, the tablet driver WILL NOT WORK if you have a Wacom tablet driver installed at the same time.
I've never run into this problem with any other tablet maker, but whatever the reason, you MUST delete your Wacom drivers before installing and using the Xencelabs tablet. Since many people are likely to be switching brands from Wacom if/when they buy this tablet, this is a very important point.
Xencelabs tells us they're working on a proper fix, but before working with them to figure out my issues, the tablet was practically unusable. The cursor would jump between points, pressure sensitivity would fail, and some features would sometimes stop working outright. Hopefully by the time you receive your unit, this will be a moot point; until then, if you plan to use both Xencelabs and Wacom tablets on the same computer — even if you're not using them at the same time — you're going to have a bad time.
The only other "issue" I spotted is the lack of multi-touch functionality, something that Wacom does include in their Intuos Pro line. Honestly, I actually prefer not having touch functionality, since palm rejection fails as often as it succeeds on my Intuos, but your mileage may vary. If using multi-touch gestures to zoom or move along your canvas is important, you're out of luck.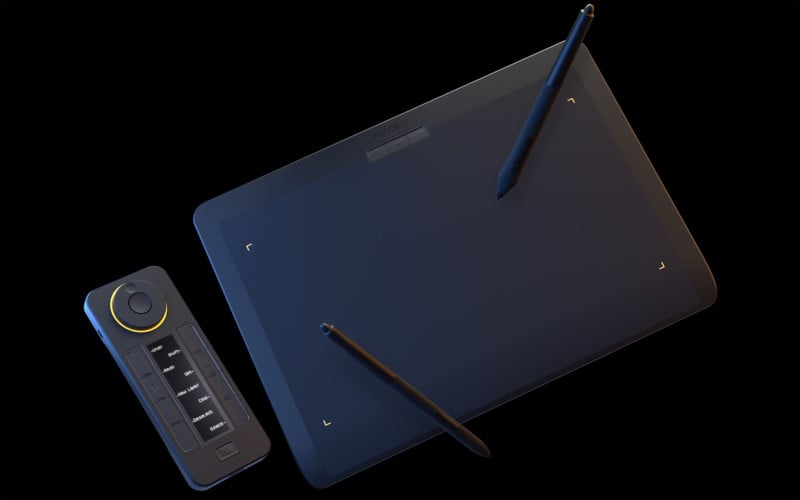 King of the Hill
As a reviewer, one of my jobs is to find the quirks and issues. I test features I don't use, put the tablet through some frankly ridiculous tests, and exchange countless emails with Product Managers to make sure I'm not missing something. It makes me a bit of a pain as a reviewer, but it's a good way to tease out the issues.
Usually, a first-generation product that tries to compete with the biggest player in the industry would fail in a few obvious ways, especially if it's cheaper. Build quality, performance, customer support… something usually has to suffer. But that's simply not the case here.
In every way that matters, the Xencelabs Pen Tablet Medium meets or exceeds my expectations and shows that there is still room for innovation in the graphics tablet space.
Pros
Fantastic build quality
Creative new ergonomic design
Ships with two different pens and sturdy pen case
Professional-grade performance
Easy-to-use software with lots of customization options
Fantastic quick-keys remote with built-in screen
Cons
Tablet malfunctions if Wacom driver is installed
Quick-Keys remote sold separately
Only three built-in express keys
Wireless functionality requires separate dongle (included)
No touch/gesture functionality
Are There Alternatives?
Other than the elephant in the room, the main alternatives are the same tried and true names that come up in every graphics tablet review: XP-PEN and Huion. They're not the only affordable third-party alternatives in the game, but they are the best, and the XP-PEN Deco Pro and Huion Inspiroy Dial tablets offer similar core features to the Xencelabs tablet and cost between $120 and $180 less.
You'll get the same 8000+ levels of pressure sensitivity from a battery-free pen, built-in dials and express keys, and software that has never given this writer trouble. You'll give up build quality, customer service is hit-or-miss, the included pens simply aren't on the same level as Xencelabs or Wacom, and the XP-PEN Deco Pro does not feature any kind of wireless connectivity.
Should You Buy It?
Absolutely.
There's no other way to put it: as I write this, the Xencelabs Pen Tablet Medium is the best medium-sized pen tablet money can buy. They've leapfrogged Wacom on their first try, leaving me very excited to see what they'll do next.
Xencelabs already told us they have a pen display in the pipeline. In the meantime, I will be trading in my Intuos Pro, and keeping a very close eye on the updates from this company.